The foundation of TipTree is list building. At the heart of the system Tiptree is designed to collect fan information. By using a cleaver method to collect fan information and include them in artist performances.
By taking requests we are able to guide every new fan through a series of steps that entice them to give their phone number, email, name. After they request we gently suggest they tip artists; this is known as a tip nudge.
Fans are encouraged to follow artists on TipTree where an artist will have access to communicate with fans and even sell tickets and merch directly to them.
The Print
The foundation of any good marketing campaign starts with the art/print. TipTree uses table cards and Acrylic sign holders to entice fans to scan a QR code and with our newest offer even Tap To Pay.
We have found that the best CTA's (call to action) are the following.
Request a song
Scan QR Code
Tap To Pay
Tap To Request
The Placement
We have found through 1000's of artists trial and error that the best method to use is the "all over method." Place table cards and acrylic signs at every table. In addition, if you have large format signs place them next to you in a well lite area.
We cant stress the importance of using table tents at every table.
The Announcement
You will find that having your QR visible is not simply enough. You must invite your guests to scan the QR Code you have placed at their table. We have found that announcing the table cards periodically significantly increases participation.
The Confirmation Text/SMS
Once a fan makes a request they are sent a welcome message straight to their phone.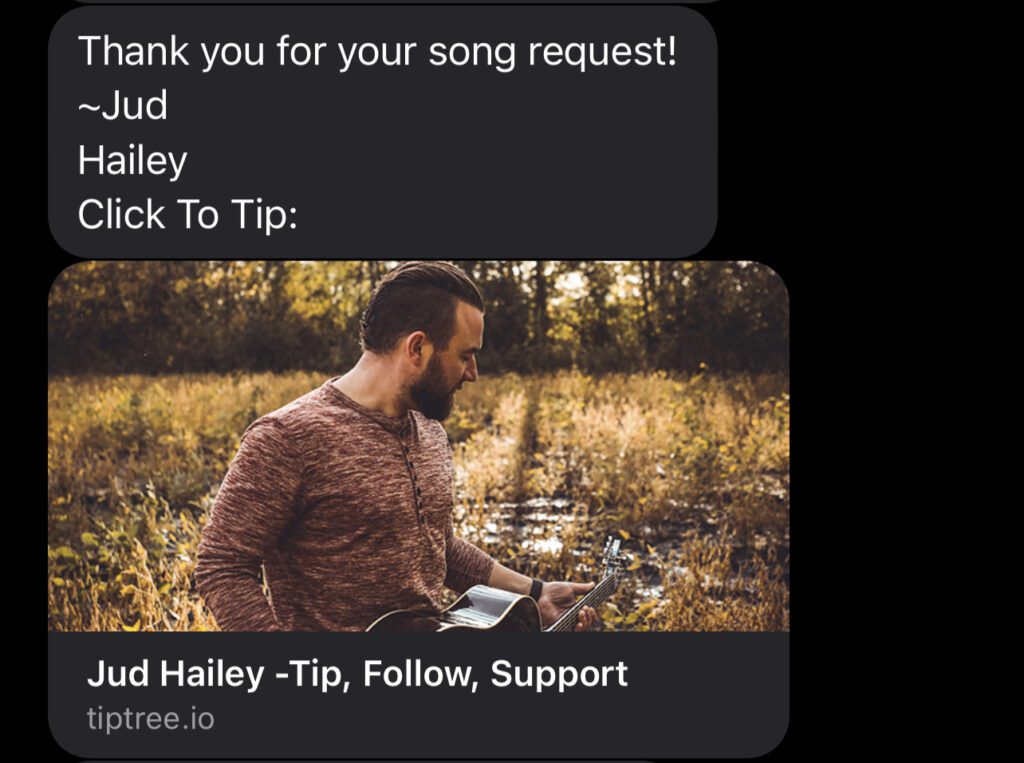 List Building
Behind the scenes the fans information is being added to your personal lists for you to recall anytime. We should note *it is our policy that the information you collect at shows is never shared with third parties and TipTree does not use the information to solicit to your fans.
Within the tiptree dashboard you can send your fans a text message of upcoming shows. We highly recommend you send out one a week or twice a month. This keeps your fans engaged and your lists relevant.
In addition, we highly recommend you connect your tiptree page to a blast email service like Mailchimp or constant contact.
Email Connection