As an artist working within the music industry, you should be aware that the respect and acknowledgment of your audience is frequently a relative and fickle idea. Even though there are obviously more physical types of validation, such as album sales, streaming stats, and ticket sales, there is no feeling that compares to the satisfaction that comes from interacting with your audience on a personal basis. As well as what could be a more concrete demonstration of that relationship than the actual act of giving a tip?
Tipping in the music industry is a sort of gratuity, a little gift of appreciation presented by fans to artists, most often in the form of monetary donations. For those who are unfamiliar with the notion, tipping in the music industry is a form of gratuity. Even while it is not a guarantee because the audience is not required to tip, it is still a powerful demonstration of the influence that an artist's music has had on the life of a listener.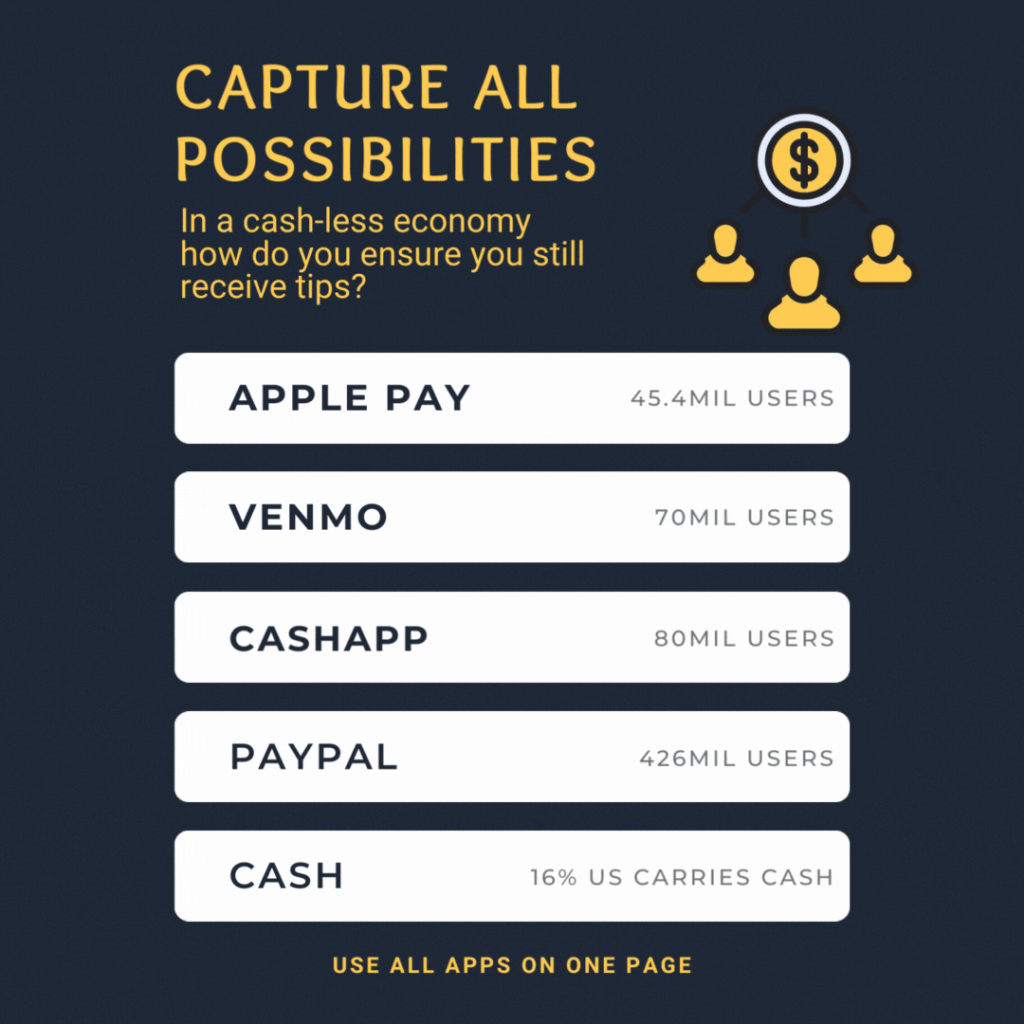 Tipping can take on an even larger meaning when it is given in response to a live performance of an artist's work. There is a real connection between the performer and the people in the audience, and the atmosphere in the room is positively electric. The lights are flashing, the music is playing, and the fans are completely engrossed in it all. And in that instant, the little act of kindness extended by a supporter can mean everything in the world.
When an artist gets a tip, it serves as a reminder that their work has moved someone emotionally and that it has had a positive influence on the life of another person. It is evidence that the numerous hours they have spent performing, recording, and writing have been worthwhile, and it demonstrates that their perseverance and commitment have been rewarded.
Tipping is a way for music lovers to express their passion for the music they adore as well as their gratitude to those who create it. It is a method of expressing thanks for the emotional connection that one has developed with the artist and the artist's work, as well as a way of contributing to the continued success of the artist.
Tipping is still a powerful and important way for musicians to connect with their audiences, despite the fact that it is not a certainty in the music industry. It is a recognition of the artist's hard work in addition to a confirmation of the impact that they have had. The event gives music lovers the chance to express their gratitude and support for the artists whose work they adore. Tipping is a custom that is still highly valued and observed in the music industry. Tips can take the form of anything from a little expression of appreciation to a big payment.
What is a Marketing Funnel?
A marketing funnel can assist businesses in understanding how people progress from strangers to customers.
Consider a funnel in the shape of a cone. The funnel's top is wide, like the top of a cone, and its bottom is narrow, like the point of a cone.
Many people are learning about a product or service for the first time at the top of the funnel. These people are only now becoming interested.
As they learn more about the product, some of them begin to like it and move closer to the bottom of the funnel. They could subscribe to a newsletter or follow the company on social media.
Some people become even more interested and begin to consider purchasing the product as they progress down the funnel. They may request additional information or compare it to similar products.
Some people decide to buy the product at the very bottom of the funnel. They become clients!
The marketing funnel assists businesses in understanding how to reach people at various stages and what they must do to move them closer to becoming customers.
Earning tips through TipTree allows you to connect with fans.
TipTree is the ideal place to begin for artists who are interested in expanding their income potential. The platform provides a one-of-a-kind and forward-thinking solution that enables musicians to exercise more control over their income and establish a more meaningful connection with their supporters.
The capacity to track where your tips came from is one of the most important aspects of the TipTree platform. This allows you to monitor the growth of your following over time as well as keep tabs on the individuals who have shown their support for you in the past. This information is crucial for fostering relationships with your most loyal fans and for expanding your fanbase as you continue to develop as an artist, both of which need you to cultivate relationships with your followers.
A further benefit of using TipTree is that it enables you to keep in contact with your supporters throughout your professional career. You will have the chance to reach out to your most devoted fans and engage with them on a personal level if you are able to see the source of the tips that you receive. This has the potential to result in deeper and more meaningful friendships as well as increased support for your music and career.
TipTree furthermore offers a platform that is trustworthy, safe, and reliable for the acceptance of tips and the tracking of tips. You can have peace of mind knowing that the administration of your revenues is being handled in a responsible and open manner, and that the information about your followers and the donations they make are being treated with the utmost care.
TipTree, as a whole, provides a holistic solution for musicians who want to raise the amount of money they make from their music and engage with their audience in a meaningful way. TipTree is the ideal place to begin if you want to increase the amount of money you make in the music industry because it enables you to track the origin of the tips you receive, helps you build a following of committed fans, and keeps communication open throughout your whole professional life.
earn money from your email lists
Building a dedicated fanbase is a critical component of your success as a musician. A dedicated fanbase is not only a source of encouragement, but also a valuable resource for promoting your music and increasing your income. Creating an email list is one of the most effective ways to cultivate a devoted fan base.
But what is the significance of an email list, and why do fans who sign up for your email list tend to spend more money on you as an artist? The answer lies in their level of engagement and connection with your music and your brand.
Fans who subscribe to your email list are indicating that they want to hear more from you and stay up to date on your latest news and releases. This level of involvement increases their likelihood of purchasing your music, merchandise, and tickets to your live shows. According to studies, paying fans who are on an artist's email list spend more money on the artist than non-subscribers.
Creating an email list is not only an effective way to cultivate a loyal fanbase, but the TipTree app makes it simple and automated. TipTree not only accepts and tracks tips, but it also integrates with email marketing software to help you build and manage your email list.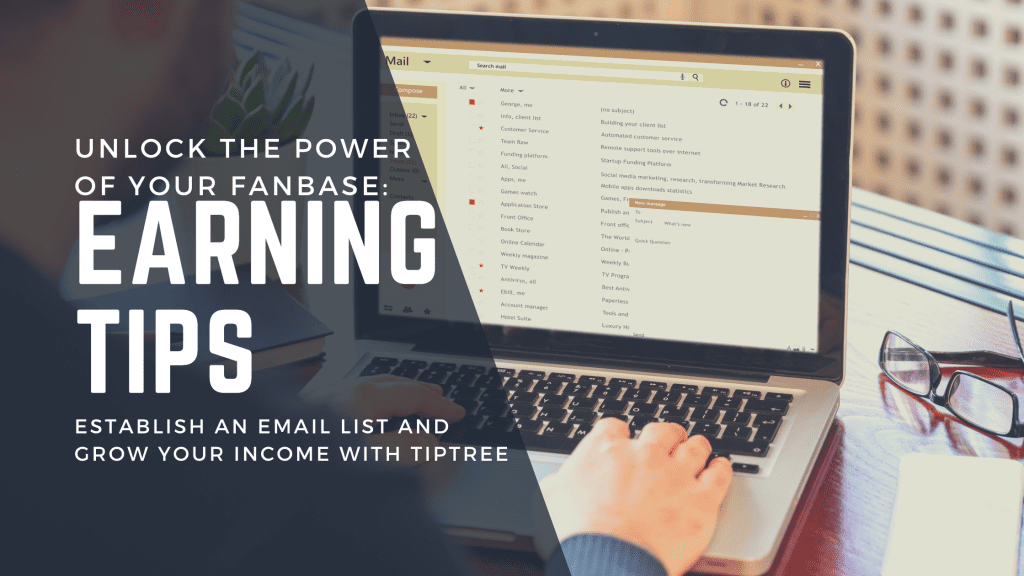 When a fan leaves a tip on TipTree, they can subscribe to your email list, allowing you to easily grow your email list and connect with your fans. This integration allows you to easily promote your new releases and event schedule to your fans while also ensuring that your marketing efforts are always automated and streamlined.
To sum it up, establishing an email list as a musician is critical to developing a loyal fanbase and increasing your income. Fans who join your email list are more likely to buy from you as an artist, and the TipTree app makes it simple to build and manage your email list while also providing a platform for receiving tips. By combining your email marketing efforts with TipTree, you can build a fan base and increase your income in the music industry.
To summarize, the music industry is particularly complex, but with the right tools and strategies, you can increase your income and connect with your fans in meaningful ways. No matter how established you are as a musician, TipTree can help you break through to the next level and make the most of your fan base.
TipTree is a complete solution for musicians who want to make more money and connect with their fans. It lets you track where your tips come from, build a loyal fan base, and automate your email marketing. Best of all, you can try TipTree for free for 30 days.
So, what are you holding out for? Sign up for your free TipTree 30-day trial today and take the first step toward increasing your income and meaningfully connecting with your fans. Your music career's future has never looked brighter with TipTree.
Unleash Your Music
Career Today!
Sign Up for TipTree's Free 30-Day Trial